The pitfalls of renting your home out as a vacation property were put into sharp focus in a video that went viral on social media.
Vacation rentals are big business with Statista estimating revenue in the vacation rentals segment will reach $82.78 billion this year with the number of users predicted to amount to 887.8 million by 2026.
But while there's clearly money to be made in the market, those getting into it need to know the potential downsides like broken doors, dirty bedrooms and guests who don't seem to want to leave.
Carley Harrison knows that more than most. Harrison told Newsweek she first started out in the holiday rentals industry five years ago "by accident."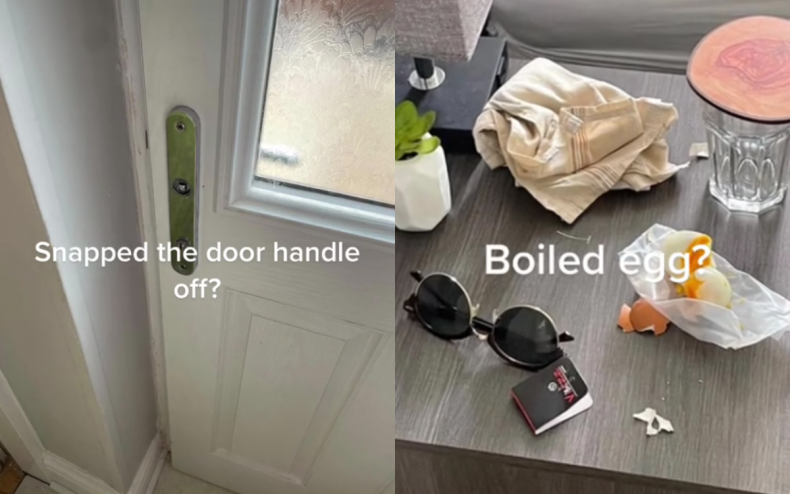 "I got divorced and couldn't make ends meet," she said. "I had to pay for all my bills, three kids, and for the divorce—so when my kids were at their Dad's I rented my flat out."
While they were away and the flat was occupied she found places to sleep on friends' couches, at work or occasionally in her car. She's come a long way since then though with the business proving so successful she recently quit a corporate job to focus on running a holiday home.
But although she's seen plenty during her time in the industry, one recent set of guests proved so troublesome she decided to take to social media to give followers a glimpse of how the house was left in their wake.
To clarify: Although the original version of the video mentions Airbnb, both Harrison and Airbnb have confirmed to Newsweek that the property featured in the video was not let out via the online vacation rental company.
In any case, the issues centered on the guests themselves who, according to Harrison, were making big demands before they even got there and continued upon arrival at the house, which is located in the popular U.K. holiday destination, Blackpool.
"I had a conversation with them prior to their check in as they wanted to arrive earlier on their check in day—I explained this wouldn't be possible as we had guests in and then the change over would need to be fully done before they arrive," she said. "They disregarded this and got dropped off in a minibus at the house at 7.15 a.m., with children and all their baggage."
Despite a bad first impression, she eventually relented as she "felt bad for them" and let them drop off their stuff. Harrison was due to fly out to France for a vacation of her own with her fiance later that day but left her daughter, Sharna, in charge of keeping an eye on the place.
Everything appeared to be fine until it came to checkout day.
Knowing they could potentially "be a pain checking out" she suggested her daughter go over later than planned—2 P.M. rather than the agreed 10 A.M. checkout time—assuming they would be long gone.
However, as the video filmed by Sharna shows, this was not the case. Instead, they found the house in disarray with rubbish and food waste strewn across the work surfaces and even more surprises around the house.
"The front door was dead bolted from the inside but luckily Sharna had access around the back," Harrison said. "The back door handle was broken off completely and as she went through the house she noticed that their stuff was still in the house and one of the bedroom doors was locked from the inside."
It subsequently emerged that the guests had not only outstayed their welcome, they had no plans to leave any time soon having gone on a "day out" to a nearby water park, leaving one of their party behind to rest. They eventually returned at around 4 p.m. to gather their stuff and leave.
Despite the drama, she hoped they "enjoyed their stay" and wanted to share the video and experience to TikTok to show the "more challenging" side of her work. It's certainly proven popular, with the video showing the "horrible" state the house was found in amassing 3.4 million views via Harrison's HolidayHeim account in the space of a few short days.
"I could never imagine me and my kids disrespecting anyones house like that," one viewer wrote, with another suggesting Harrison "keep deposit and throw their stuff away" which, of course, she didn't.
Her advice to anyone looking to get into the holiday rental business is simple: You have to love it. "Only do serviced accommodation if you love hospitality," she said. "You've got to be passionate about it to deal with some of the harder bits."
Related Posts