Leer en español
El Tiradito Wishing Shrine in the city's Barrio Viejo neighborhood, south of the Tucson Convention Center, is said to be a sanctuary dedicated to a sinful man.
You can find candles constantly burning at the site, 420 S. Main Ave., and little holes in the walls filled with letters from visitors. People leave offerings like food, teddy bears and art.
Legend has it that a man involved in a love triangle died on that spot after an altercation about 150 years ago.
El Tiradito is just one of the many places Priscilla Terán shows visitors on her "Tucson Behind the Scenes" tour.
Terán wears many hats, mainly as a bilingual middle school teacher, teaching English language arts, but also as a translator, bilingual wedding officiant and a tour guide.
Terán's tours, which can be booked through Airbnb here, originally were something she did for friends visiting from out of town, showing them places around Tucson that she thought were historic.
"Whenever we go on vacation I like to take (my kids) on a tour, to go to museums, to learn something about the city we are visiting," Terán said. "How cool is it that someone local can tell you about their own city and show you about their own city."
In 2019, Terán was vacationing in Hawaii with her two kids, waiting for a local tour guide to arrive when she had the idea to do her own tours in Tucson. Though there are local biking and walking tours, she couldn't think of anything like what she was imagining in Tucson.
As soon as she got home, she put her tours online and began showing tourists around. It was going well, she said, but shortly after came the COVID-19 pandemic.
"At that time, the world was closed," she said.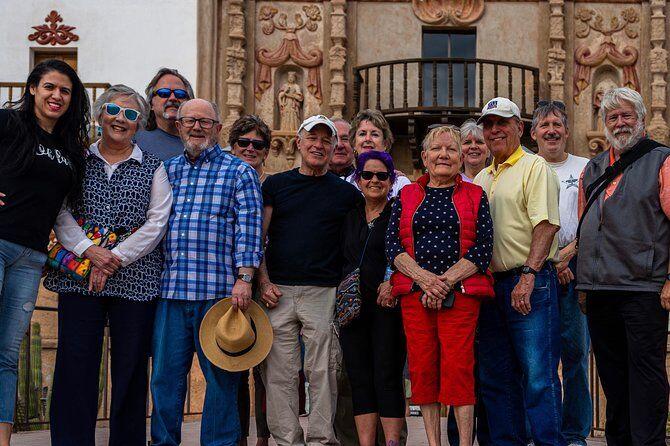 Earlier this year, Terán restarted her tours, which are held every weekend during busy seasons, like now when people flee snowstorms for Tucson's more tame winters and events like the gem show.
Most of her clientele is elderly couples or groups of friends who come to visit Tucson. About 10% of the tours are for people who want to move to Tucson.
The "Tucson Behind the Scenes" tours begin with food. When she travels, Terán loves trying the food the locals eat, so she indulges her guests with a Tucson staple: Sonoran tacos.
"Here in Arizona we are very Sonoran, it is the only thing that predominates," Terán said.
Being only an hour away from the state of Sonora, the culture penetrates into the U.S. side of the border in food, language and people.
Terán was born in Tucson, but was raised in Moctezuma, Sonora, until she was 14 years old when she returned to the United States.
She attended Sunnyside High School and graduated from the University of Arizona with her bachelor's degree in bilingual education, before earning her master's in information resources and library science.
In all of her jobs, being bilingual is essential: teaching students the English language, as a translator, as a tour guide and as a bilingual officiant.
"Being bilingual opens a lot of doors for you. Knowing more languages is the best," says Terán. "We have the best of both worlds and it's also more job opportunities."
Tours are $50 per person and private packages are also available. The tours, which are 3½ to four hours, can be booked here and take you through neighborhoods, the Mercado San Agustin and foodie spots. Learn more about the Tucson Behind the Scenes Tour on the tour's Facebook page.
Related Posts