They travelled in style, hiring a private jet, staying at the finest of hotels, dining at expensive restaurants and missing official meetings.
The trip began with a two-night stay at the Emirates Palace Hotel for $10,600 where they caught an $8000 helicopter flight to the top of the 7-star Burj Al Arab resort in Dubai for a $575 afternoon tea.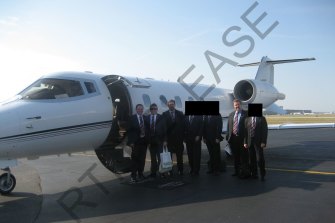 Then it was off to London for three nights at the Savoy Hotel for $14,200, two nights in Paris at the Hotel Barriere Le Fouquet's for $18,000 followed by three nights in Rome at the Hotel Hassler for $8700.
Traversing Europe was done in style with a private charter jet costing $27,600 for six days.
Official meetings were missed – including one with the head of utilities giant Veolia Group chairman Doug Dean. Veolia still has interests in Ipswich.
At the time scheduled for the Veolia meeting, some of the officials went on a day trip to the Villers-Bretonneux Australian War Museum and did sightseeing in central Paris.
A tour of the SCT Gasification waste to energy plant in Rome was also missed – for more sightseeing, guided tours of the Vatican and a visit to the Colosseum.
Towards the end of the trip, Pisasale and his travel companions went off the official itinerary altogether, flying to Sicily for a side trip.
In the province of Syracuse, Pisasale socialised with relatives and visited his family burial sites. One of the four caught a boat trip around the coastline, before they all met up for dinner at a local restaurant.
Once home, a 24-page pamphlet was produced containing their fresh
…
Read the rest
Read more