Congratulations are in order for Naomi Osaka, who is pregnant with her first child.
The tennis superstar, 25, announced the news across her social media channels Jan. 11, 2023.
"Can't wait to get back on the court but here's a little life update for 2023," Osaka captioned three screenshots, including one photo of a sonogram and two others detailing her exciting life update.
"The past few years have been interesting to say the least, but I find that it's the most challenging times in life that may be the most fun. These few months away from the sport has really given me a new love and appreciation for the game I've dedicated my life to," she wrote.
Osaka continued, "I realize that life is so short and I don't take any moments for granted, everyday is a new blessing and adventure. I know that I have so much to look forward to in the future, one thing I'm looking forward to is for my kid to watch one of my matches and tell someone, 'that's my mom,' haha. 2023 will be a year that'll be full of lessons for me and I hope I'll see you guys in the start of the next one cause I'll be at Aus 2024. Love you all infinitely."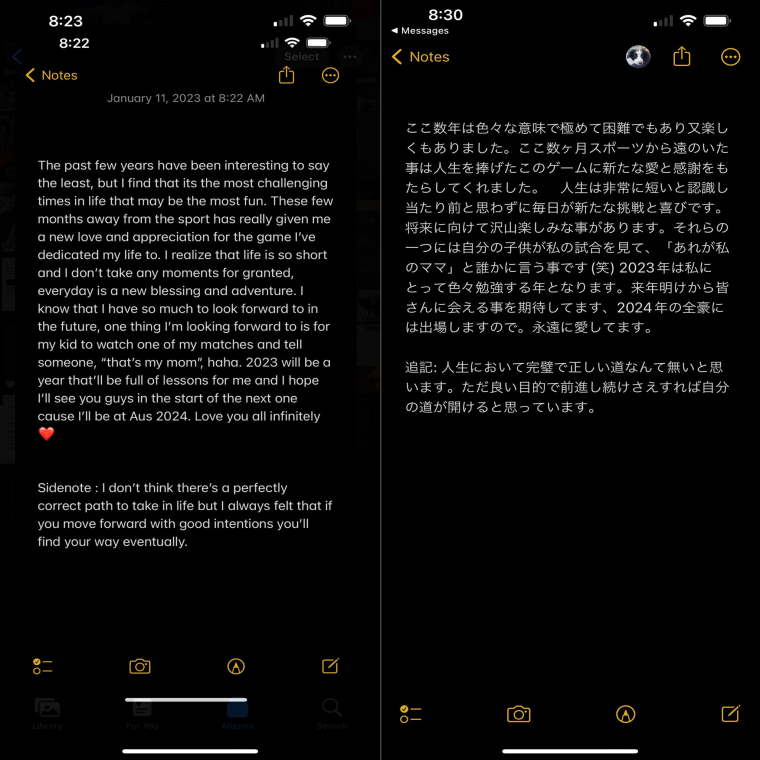 Last week, Osaka withdrew from the Australian Open in a shocking move just over a week before the tournament began without citing a reason. It was speculated her withdrawal was tied to ongoing health issues after withdrawing from Wimbledon last June.
The mom-to-be added a "sidenote" at the bottom of her update.
"I don't think there's a perfectly correct path to take in life but I always felt that if you move forward with good intentions you'll find your way eventually," she ended the note.
Congratulatory wishes were quick to pour in for the four-time Grand Slam champion, including love from the US Open and Wimbledon Twitter accounts.
While Osaka did not disclose the identity of the baby's father, she most recently was dating 25-year-old rapper Cordae. In a 2021 interview with "GQ," the couple shared their first kiss was in Indian Wells, California.
Related Posts