Peering through the lens of the Combat Visor, it is easy to believe that it's a window – your way of assessing the acrid ecology of Talon IV. But it's really a mirror, reflecting the anguished determination of Samus Aran as bright beams of light illuminate dark and dusty corridors. Two decades later, Metroid Prime's smartest visual flourish has lost none of its impact. Is that down to the quality of this remaster, which occupies uncommon ground between faithful emulation and confident reconfiguration, or because the foundations first outlined by Retro Studios have largely circumvented the slow decay of time? It's difficult to say, although I can tell you that Metroid Prime Remastered is a triumph.
FAST FACTS: Metroid Prime Remastered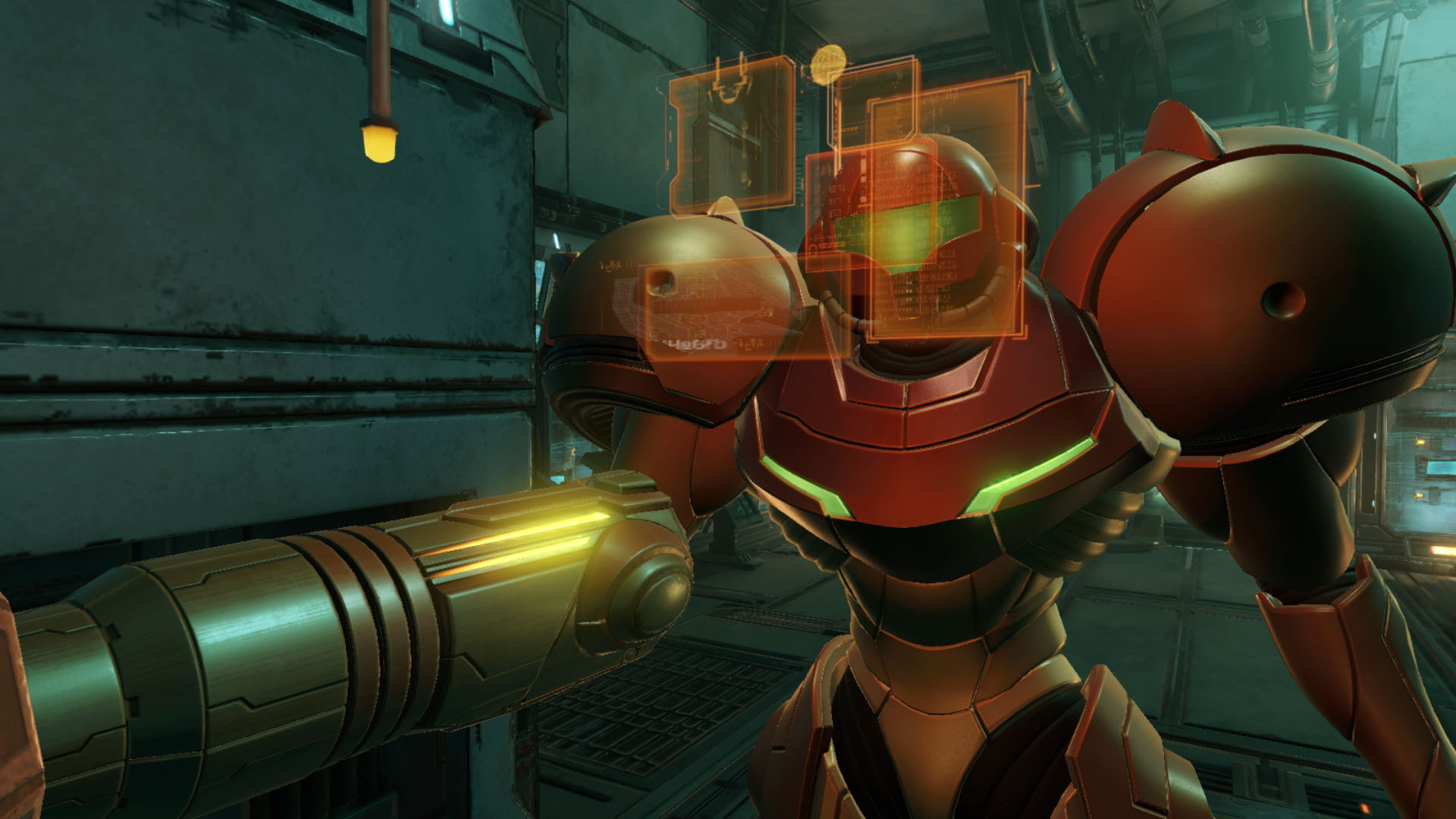 Release date: February 8, 2023
Platform(s): Nintendo Switch
Developer: Retro Studios
Publisher: Nintendo
I was 13 years-old when I first steered the bounty hunter down to the inhospitable surface of Talon IV, following the aftermath of an explosion aboard the Orpheon – a Space Pirate frigate ripped apart by biological experiments. In hindsight, I now understand that I was too young to completely appreciate this video game's achievements. I'm 33 now, and Remastered is like seeing Metroid Prime for the very first time. A quiet, contemplative adventure where the balance of power shifts gradually. Not as you repair the damaged Varia Suit, slowly expanding its capabilities with hidden Chozo technology, but as you gain a better understanding of the alien flora and altered fauna that surrounds you. That hurts you. That hunts you.  
Surveying the unknown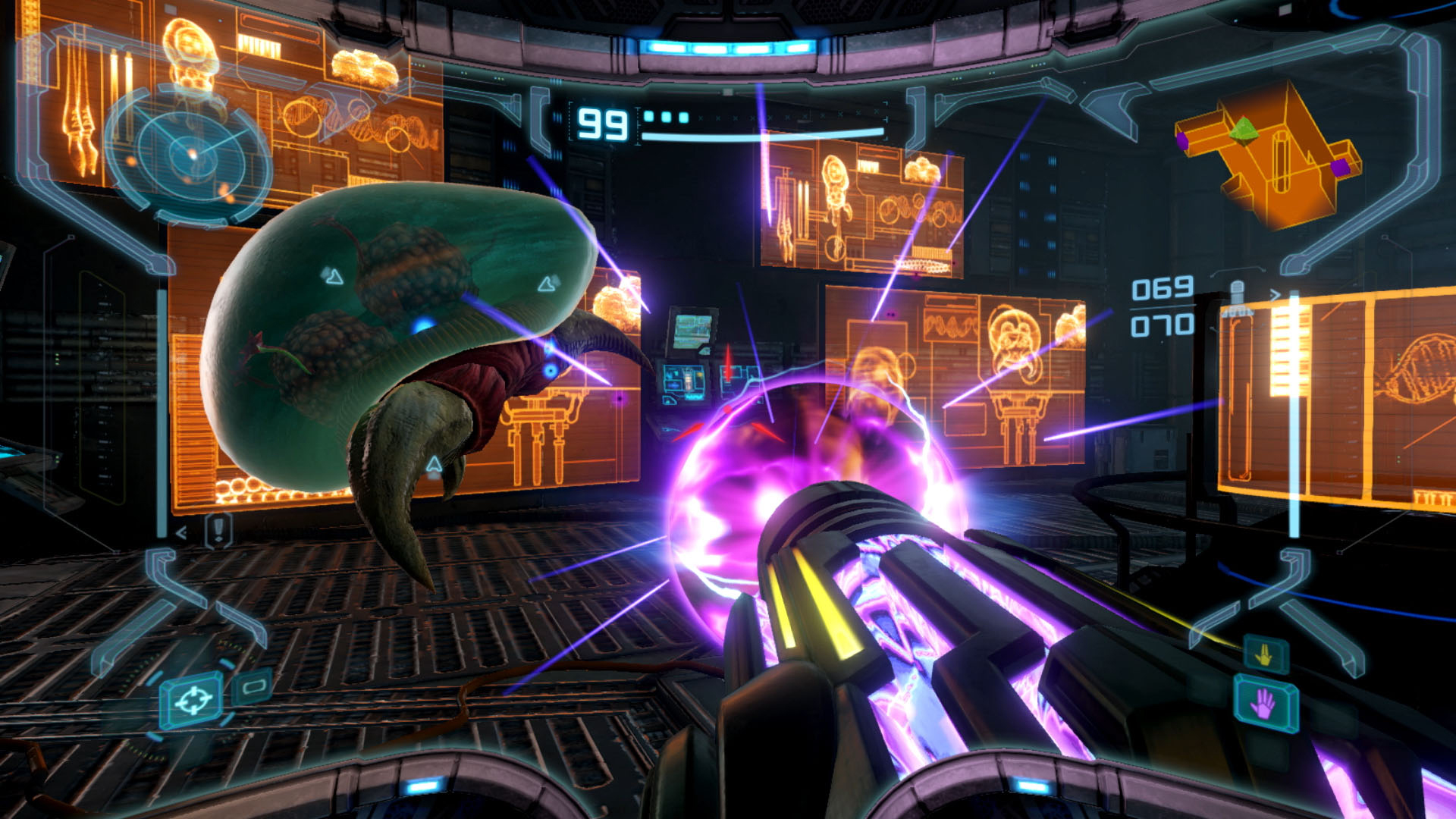 Metroid Prime is underpinned by vibrant imagination and powered by a vivid attention to detail. That was true of the original, though the atmosphere is undoubtedly accentuated after a careful remastering process. The hiss of a power suit straining against the weight of movement, the audible crosstalk as visor modes layer atop of one another, the sharp exhale of air as Samus' energy shield is peppered with plasma. All of it combines to create such a severe sense of place that the Arm Cannon quickly feels like a direct extension of your fingertips – more so than ever before now, with the introduction of a (sometimes finicky) dual-analog control option alongside 'classic' and 'pointer' schemes. 
Almost all of Metroid Prime's story is conveyed environmentally, and through accumulated written logs. At the time, this was a somewhat unconventional narrative structure; in the context of modern first-person adventure games, it still feels revolutionary. There's a freedom to Metroid Prime's core design that is as daunting and it is exhilarating. Getting lost isn't a mistake, it's the point; an opportunity to conquer undulating terrains that always find a way to fold back in on themselves. Activating your Scan Visor won't remind you of forgotten mission objectives, but it will let you learn more about every incidental object around you. The three-dimensional map is as difficult to read today as it was way back when, which I still believe is designed as such to sabotage concerted efforts to get back on track.
I don't know why I remember this, but there were a lot of vapid comparisons drawn between Halo: Combat Evolved and Metroid Prime in 2002. I feel inclined to contribute my part to this absurd legacy. Halo: Combat Evolved Anniversary featured a high-definition visual overhaul that, while technically impressive, stripped much of the charm and personality out of Installation 04. The landscape was recognizable, but alien – giant jagged shapes terraformed into smooth cylindrical structures. Conversely, Metroid Prime has only been accentuated in its remastering, with its labyrinthian corridors and concourses gaining a scale of depth and level of detail that the GameCube wasn't able to deliver – not without our imaginations filling in the blank spaces.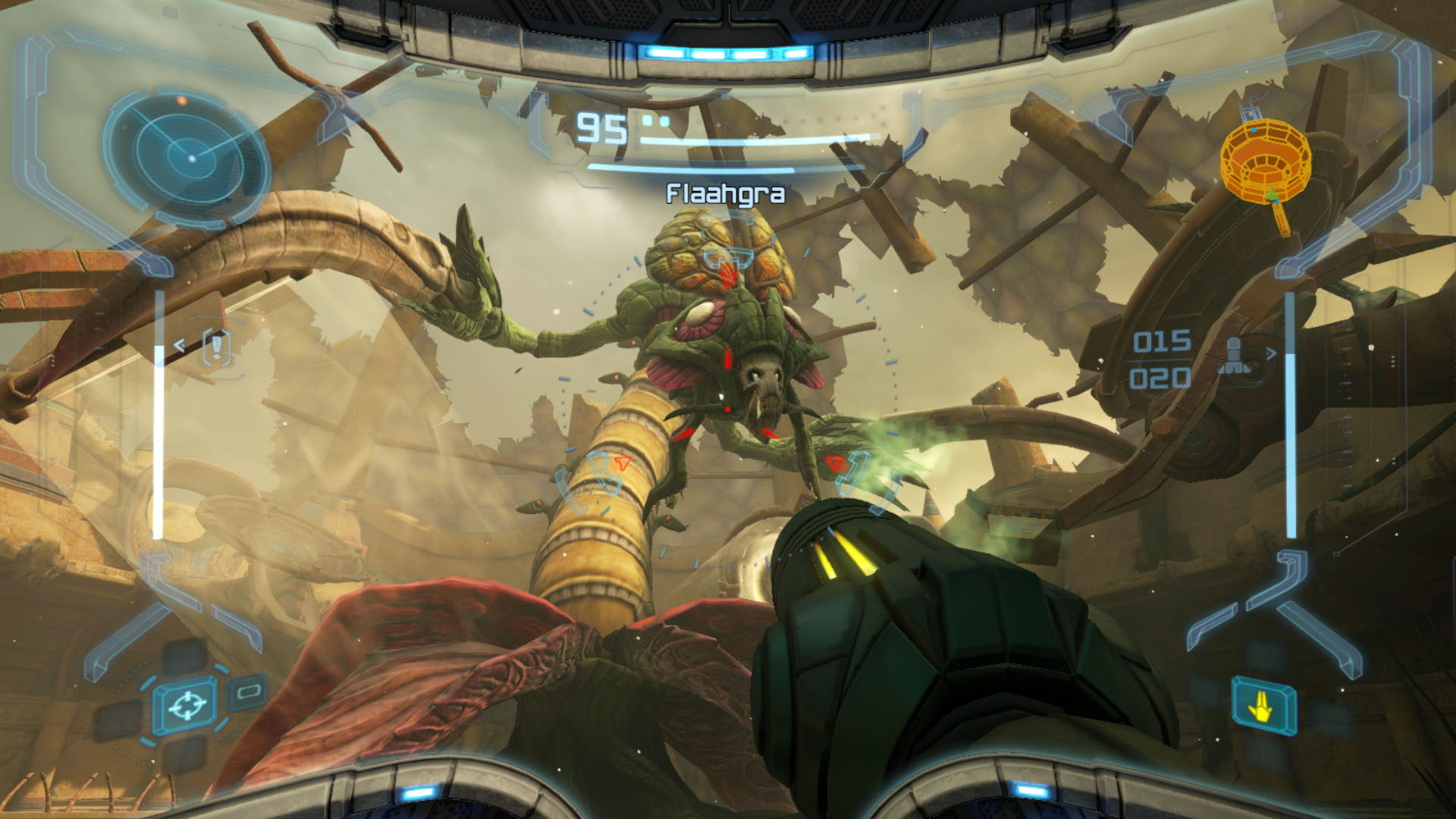 Primed to return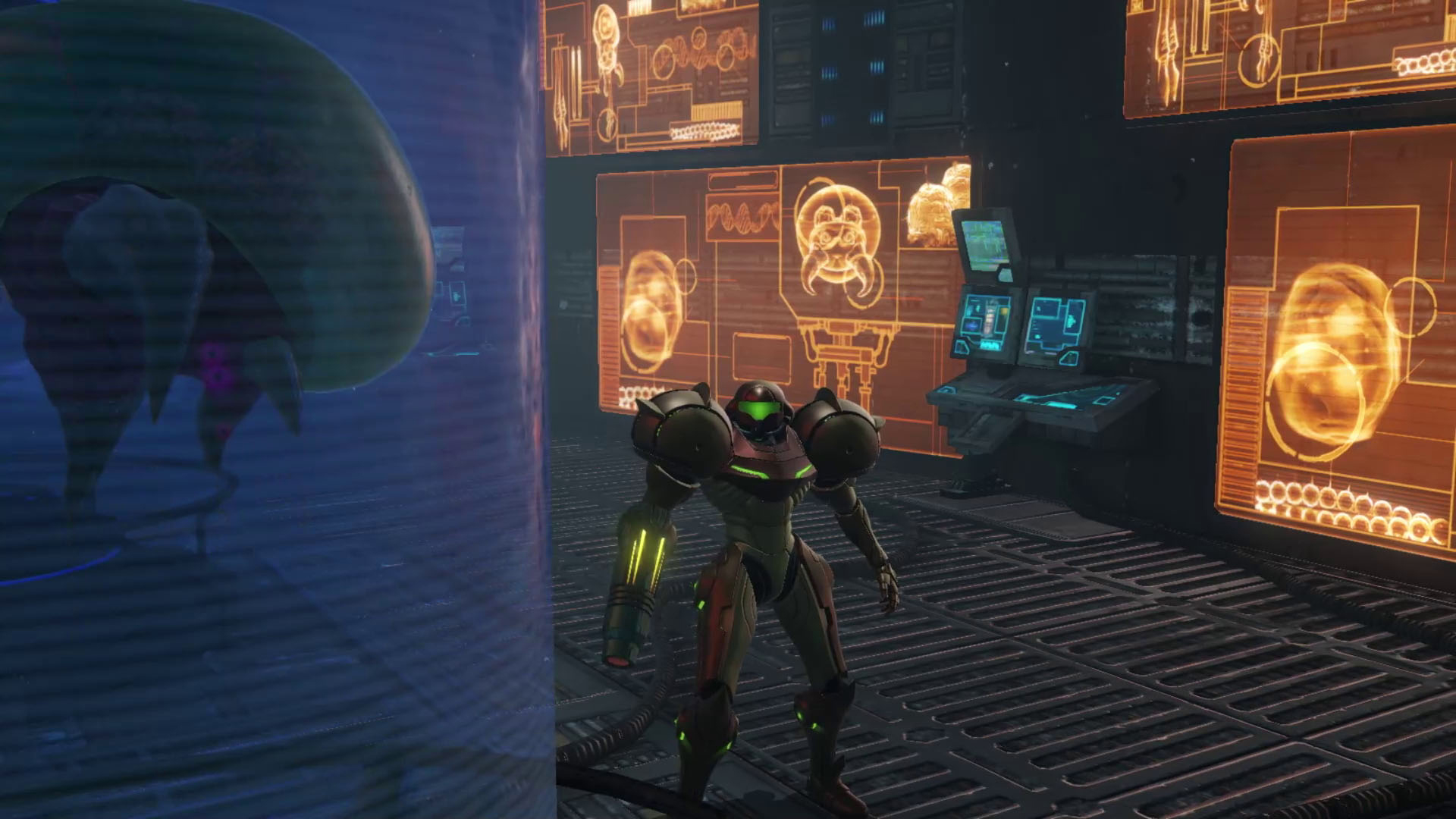 Metroid Prime Remastered gives but a small hint as to what we can expect from Metroid Prime 4. This impressive remaster appears to run in an updated version of Retro's proprietary RUDE engine, and delivers expansively detailed visuals and a smooth 60 frames-per second performance on Switch. Additionally, there are new character models for Samus Aran and many of her antagonists, and a refined control scheme to help ease friction. 
There's a real authenticity to the presentation, even with the introduction of new textures and geometry. All of which helps propel Metroid Prime Remastered through some of its rougher areas: the headache of navigating dark facilities with the Thermal Visor; the slow arc of combat against multiple antagonists; the sheer simplicity of the Morph Ball puzzles. While Metroid Prime isn't a difficult game by any stretch of the imagination, the save state limitation is perhaps the biggest signal of antiquation of the GameCube era – given the scanning which needs to be completed in every quadrant of the sprawling spaces (and the secrets which may be lurking within), needing to replay lengthy sections because of a poorly timed strafe can feel somewhat arduous.
There are rough edges, but Metroid Prime Remastered is worth the occasional splinter. Metroid Prime is to first-person shooters what Super Metroid was to side-scrolling platformers – it's singular, and special; inspiring generations of players to dream of more immersive worlds, and pushing countless video game designers to try and deliver them. That Metroid Prime is able to carry as much resonance today as it did 20 years ago doesn't just speak to the quality of remaster that Retro Studios (and a legion of partnering development teams) have delivered, but the strength of the underlying foundational design. Metroid Prime Remastered is not only a dazzling reminder of why the original is one of the very best GameCube games, but a pointed argument that it should stand as one of the all-time greats. 
Metroid Prime Remastered was reviewed on Nintendo Switch OLED, with a code provided by the publisher.
Related Posts