Say you're on vacation at Niagara Falls. You want to take an amazing photo that captures the thundering beauty of the waterfalls – but you don't want to take the same photo that everyone else is taking. The thing is … you're not a professional photographer. So, what do you do?
As a photographer and visuals editor at NPR, I know that with practice and a few pointers, it's possible for anyone to take vacation photos that are distinctive and tell a great story. And with just a few more weeks left of summer (and likely a few last trips for some of you) there's still time to give these tips a whirl.
I asked documentary photographer Daniella Zalcman, whose work has appeared in The New York Times and Smithsonian Magazine, and Jeanne Modderman, an experiential designer at Instagram and a former photo producer at National Geographic, to share their best photo advice.
They say that with intention, a keen eye for detail and a basic knowledge of your camera features, you too can step up your photography game.
1. Think before you snap
Before you take a photo, ask yourself: What are you trying to document?
"Understanding the intention behind a photo is absolutely critical to creating an image that will last forever and have significance to you," says Zalcman.
That may be as simple as saying to yourself: "OK, I'm going to take a photo of my niece acting like the general contractor of this sandcastle, because it makes me laugh," or "I'm going to take a picture of this painting at the museum because I like the colors."
Having a "why" can help you focus on what you want to remember. And it may even help you take fewer photos, giving you more time to – heck – live in the moment.
In fact, taking photos without having a "why" may actually make you forget what you saw.
A study published in the journal Psychological Science found that people on a museum tour actually remembered fewer details if they took photos of an object as a whole. However, when people zoomed in on a specific part of the object, taking photos did not impair their memory. The study's author, Linda Henkel, says the additional attention and cognition required to focus on those details may have eliminated loss in memory recall.
So rather than taking photos willy-nilly, zero in on what matters to you.
2. Make a shot list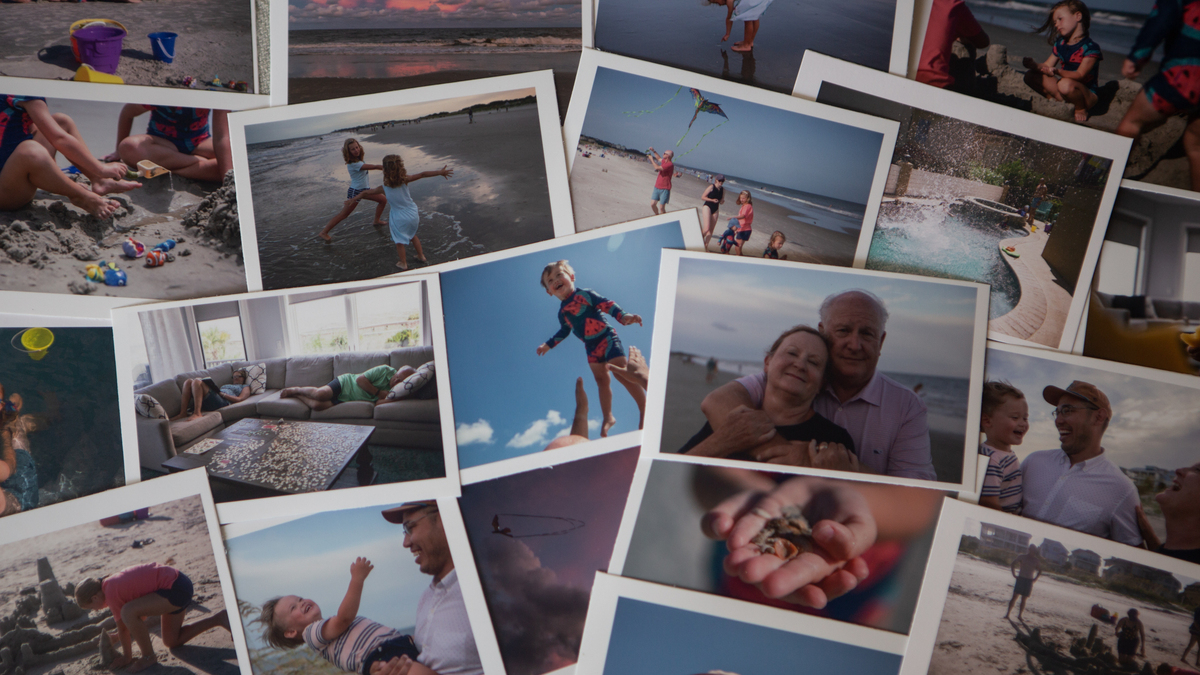 Photo Illustration by Becky Harlan/NPR
Professional photographers often create "shot lists" – a checklist of every photo they hope to capture, along with notes on style and composition – to ensure they get the coverage they need at say, a wedding or a sports game.
You can try this same approach on your vacation. For example, if you're going on a beach trip with your girlfriends, you might jot down some of the shots you hope to capture in advance: A great selfie during a night out on the town, the sunrise you know you'll catch with your early-bird BFF, a photo of your crab boil. That way, you won't leave the trip wishing there were more photos you could have taken – or get too caught up in wasting your precious vacay time on photos you didn't need to take.
You can even make a game out of it. "I adore the idea of giving yourself an assignment or a scavenger hunt while you're traveling," says Zalcman. For example, if you're in Paris, you could tell yourself to take photos of inspiring street fashion, or if you're camping, all the insects you find in your tent.
And mix it up. Make sure to add variety both in subject matter (people, objects, nature and architecture) and in style (details and wide shots, posed photos and candid shots).
A shot list can help clarify your photo goals — and pinpoint what you're most excited about.
3. Capture the specific and the ordinary
Now that you know your purpose and have your shot list, Modderman says you might ask yourself, "How do I put my signature on this?" In other words, what specific details can you add to the image to make it yours?
Think about capturing moments or objects that may seem "inane or ordinary," says Zalcman. These scenes may not feel epic enough to photograph in the moment, but they're ones you're likely to want to remember after your trip is over. The images may be as simple as taking a photo of your dad napping on the plane or your beloved, threadbare backpack — the one you travel with everywhere you go — in the foreground of a vista.
Tapping into your senses is another way to add dimension to your pictures. "Before you snap away, take a beat to experience the scene with all of your senses," Modderman says. What's grabbing your attention? "Is it the wind whipping that one strand of hair against your cheek, or the taste of the freshly picked blackberry that makes your mouth pucker?"'
Then try to capture those sensory cues through your image. For example, if you're in a boreal forest and you love the way it smells, instead of a wide shot of the trees, take a close-up of a balsam fir branch. Long after your trip is over, the image may evoke a memory of you rubbing the needles in your hand and sniffing its pine-y goodness.
4. Know your camera settings
So, how do you make your photos look good on a technical level? Learn how to control your camera settings so that your photos live up to your vision for them, says Zalcman.
Light: Pay attention to where the natural light is coming from. For example, if the sun is behind your subject, they're going to be backlit, which isn't necessarily a bad thing — it could create a cool silhouette. But if you want to see their face, ask your subject to turn themselves toward the light.
Taking photos during golden hour, the time right after sunrise or before sunset, sets a beautiful stage for images and creates what Zalcman calls "some of the most beautiful, soft incandescent light that gives everything this nice sort of orange, yellow glow." Sounds great, right? You can use a golden hour calculator to determine when it happens in your location.
Distance: "A very common beginner mistake is not getting close enough," says Zalcman. She says that beginners often feel timid or worried about invading someone's personal space. But if you're taking a photo of say, a person or a dog, you want the main subject to be obvious in the image — not just a tiny speck.
Photographers call this technique "filling the frame." Basically, it means to fill your image with more of the subject. Remember, that whole rectangle (or square) is at your disposal, so use it up!
To take a good close-up, don't just zoom in or crop the image with your camera. The photo could become pixelated. Move your body closer to your subject. If you're worried about getting too close to the subject and making them feel uncomfortable, Zalcman suggests asking an icebreaker question to put people at ease. Her go-to? "Tell me about your dog."
Exposure: Controlling the exposure — how bright or dark your images are — can give you a lot of influence over the mood of a photo. Smartphone cameras are really good at automatically picking a decent exposure, says Zalcman. But that doesn't mean you have to let your device override your vision.
It's easy to adjust exposure on most devices by tapping the screen and dragging the exposure up or down. Use that feature to ensure your sunsets aren't overexposed — have too much light — or the details of a person's face aren't lost in shadow with too little light.
Perspective or angle: "We sort of just constantly photograph from our own eye level," says Zalcman. It's an easy angle for most of us because all you need to do is raise your camera to your face without moving the rest of your body. But experimenting with different angles can alter a viewer's perception of the image – with powerful results.
For example, squatting down and then photographing up at your subject can make them look monumental. Or getting high up (even just standing on a park bench) and pointing your camera down at your picnic blanket can isolate the subject, remove the horizon from the frame and give the viewer the feeling that they're peeking in on a private moment. Have fun experimenting with how different perspectives impact the feel of a photo.
5. Study your photos
It can be hard to appreciate your photos in the whirlwind of a trip, so wait until you're back home to study your images more carefully.
"You'll most likely find some surprises," says Modderman. "A knowing glance of a friend in the background or a dangling flower from a tree branch that may have been cropped when hurriedly posting [on social media]." Keep an eye out for anything that delights you or makes you take a second look.
Above all, know that it doesn't really matter if anyone else thinks a photo is "good" if it's meaningful to you — that's what matters.
The audio portion of this episode was produced by Audrey Nguyen, with engineering support from Maggie Luther. The digital story was edited by Malaka Gharib. We'd love to hear from you. Leave us a voicemail at 202-216-9823, or email us at [email protected].
Listen to Life Kit on Apple Podcasts and Spotify, or sign up for our newsletter.
Related Posts