A new rail tour operator is creating packaged tours for New Zealand's national rail service.
Great Journeys New Zealand, the newly launched vacation rail packager and rail tour operator for New Zealand's rail service, KiwiRail, has introduced a series of multiday packaged tours that enable visitors to explore each region of New Zealand through fully guided excursions and activities.
The new tour packages include activities, food and beverage options and accommodations and will operate on KiwiRail's three scenic train services: the TranzAlpine, the Northern Explorer and the Coastal Pacific.
Multiday tours currently available to book can be as short as two to four days or as long as 17 days.
• Related: What's behind the rail travel boom?
Guests can choose the manner in which they want to experience a tour by selecting a Classic Style Tour or a Signature Style Tour, both of which are led by an experienced tour director.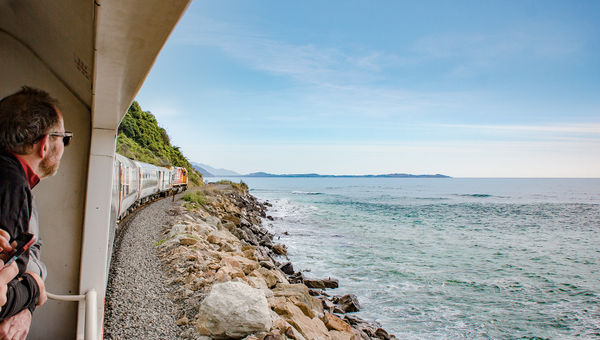 The Coastal Pacific creeps around the cliffs of Oaro on its way to Kaikoura, New Zealand. Photo Credit: Robin Heyworth
A Classic Style Tour takes travelers on journeys to New Zealand's larger cities and heartland destinations and provides the option to add on activities. A Signature Style Tour takes guests on an enhanced journey that includes more upscale accommodations and includes more activities, destinations and cultural attractions, all of which ends with a Signature Farewell Dinner at Walter Peak, a mountain located near Queenstown.
• On the Record: New Zealand's tourism minister on what's ahead for the destination
Great Journeys also offers short-break packages, that are nonguided tours that include off-train experiences and accommodations at station stops.
Some of the routes with Great Journeys include Auckland to Wellington, where guests will explore the North Island's volcanic landscape aboard the Northern Explorer; Wellington to Christchurch, where guests will cross the Cook Strait to travel along the coast of the South Island and pass through mountain valleys aboard the Coastal Pacific Train; and Christchurch to Queenstown, where guests traverse through the Southern Alps range to see the South Island's many lakes before boarding a motorcoach tour to Queenstown.
Travel advisors should visit the agent portal on the Great Journeys website to learn more.
Related Posts